https://www.themanualtherapist.com/2019/08/stop-thought-viruses-im-old-and-thats.html
This video from a seminar given by Dr E. from Modern Manual Therapy wonderfully illustrates the way patterns of thought and self-limiting belief can get in the way of our functionality and freedom.
The biopsychosocial model of behaviour, is used a great deal in the world of rehabilitation, especially when examining why clients are unwilling or unable to stick with a course of treatment. In practice, finding ways to challenge the BPS model and help clients achieve the best outcome demands awareness of several factors including the clients base level starting point, the use of carefully planned rehab or conditioning (to the point of planning what to do when the client 'falls off the wagon') and often challenging deeply held health beliefs.
When a masseur, trainer or a physio is assessing a client's needs and aims, they will have to take into account what the client thinks or feels about themselves. This may seem obvious, but it is such a key thing, and can be extremely challenging to the client and needs to be handled with tact and diplomacy by the practitioner. Deeply held health beliefs can inform a client's whole identity, and unchallenged can actually be reinforcing behaviour which makes people not engage with a process that would actually be very helpful.
The research around this comes from the work of George Engel in the 1970's but also more recently J Vlaeyen with the fear-avoidance model of pain.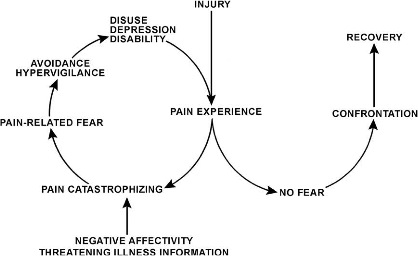 The other piece of interesting information within the video involves the confounding of the back pain beliefs with the discrepancy found between lumbar disc degeneration with age-related arthritis and reported lower back pain. This is expanded on in https://www.leechiro.ca/single-post/2018/02/21/Arthritis-and-Wrinkles